An online health informatics platform containing a variety of big data sets, provided by Harvey Walsh, the leading experts in population-based health data.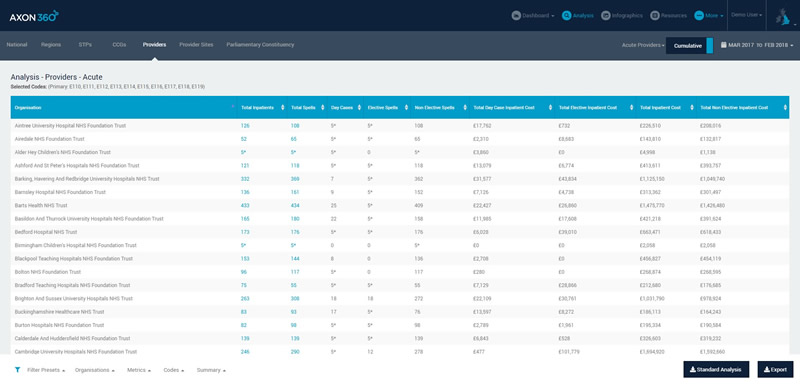 AXON 360 was developed in collaboration with NHS data experts and designed to deliver powerful real-world data insights and outcome evaluation to the NHS and to Pharmaceutical and Medical Device Industries.
AXON 360 combines a range of big data sets, including HES, QOF and GP Prescribing, in a powerful data cube that processes and delivers complex reports in seconds. The user can select pre-defined queries or undertake bespoke queries and view the results as dashboards, pathway flows, data tables, infographics or exportable reports.
AXON 360 can be configured to provide restricted codes, views, and functionality, or be configured to provide open access, dependent on permissions. Users can store and save favourites for quick access to data that is refreshed monthly.
The platform of choice - Whether you work within the NHS and require real-world data to support outcomes or interventions, or you work in life sciences and wish to provide analysis, either for submissions or for developing value propositions that support engagement and collaboration from payers, AXON 360 is the platform of choice.